Measuring and Fitting Sunwood and Timberlux Wood Blinds
To enable you to get the correct size for your New Blinds, accurately measure the opening for both the Width and the Drop in 3 places as shown.
Make a small sketch of your window and accurately write down the sizes, always measure twice to check your measurements.
If possible it is best to measure in 'mm' to enable a more accurate Finish
State if the measurement taken is 'Inside / Recess' or 'Outside / Blind Size'
Blind Size - Your Blind is supplied at the width entered
Recess Size - Your Blind is supplied at less -12mm to allow for side Clearance.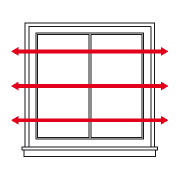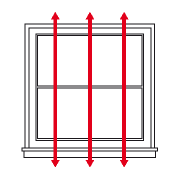 BAY WINDOWS ASSISTANCE
We know Bay Windows can often be difficult to measure so to help our customers with this we can supply the headrail fixing brackets which can then be fitted into position to enable a more accurate and clearer picture of how the Blinds will be positioned.
To allow for any handle clearence at the back of the Blind we would suggest making a line in front of your windows at 110mm which will give you the front of the Blinds headrail and approximately 45mm handle clearence, overlap Blinds at corners or intersections and use the front line to give you your Blind measurements.
You could use a 2 simple pieces of A4 paper and draw a line at 110mm on the paper to use a template for this purpose. Mark where the lines cross or intersect to give you the end of each blind.
Order your Blinds as normal at the your nearest estimated Width and at the same time send us an email requesting the number of sets of headrail fixing Brackets that you require. 1 x Bracket set for each Blind.
We will Send out the Brackets to you and after fitting the Brackets in the correct position re measure and send us your final width measurements to enable the Blinds to be manufactured at the correct size.
An outside of Bracket to Bracket measurement can be ordered as a standard Recess Measurement or you can give an exact Blind Size Measurement of the actual Blind Width required if you prefer.
Please do not hesitate to contact us if any help or advice is needed with Measuring for Bay Windows.
All of our Wooden Blinds come complete with a Wood Pelmet , Metal Box End Fixing Brackets and intermediate support Brackets which can be used if needed, fixing Screws, Child Safety Cord retaining clips and full fitting instructions.
Wood Blinds are generally easy to fit and can normally be fitted in 15-30 mins.
Wood Blinds are supplied with a pair of standard Metal End Fix Brackets and Middle Support Brackets depending on if required and on the Blind length. Top Fix and Extension Top Fix Brackets can be provided for more difficult fixing situations, please email if required.
The Standard End Box Brackets fit come colour matched to the Head Rail and fit onto the end of the Head Rail, their measurements are as follows.
Sunwood End Fix Box Brackets
Height = 46mm
Depth = 66mm
Width = 24mm
Timberlux/Santa Fe End Fix Box Brackets
Height = 55mm
Depth = 64mm
Width = 23mm
Extenson Brackets for fitting on to a wall or Window are also available, they provide a clearence gap of 35mm at the back of the Blind and measure 110mm to the front of the Blind, These brackets are mainly used in Conservatories or any face fix situation.
A non extension Swivel Bracket is also available for top fixing situations.
If you need an answer to any technical issues, help with measuring or fitting or any other general advice please contact us and we should be able to quickly help.
Office : 01206 322771
Mobile : 07979 590990